In order not to miss any African news, subscribe to the newsletter of the "World Africa" from this link. Every Saturday at 6 am, you will find a week of news and debates curated by the editorial staff of "World Africa".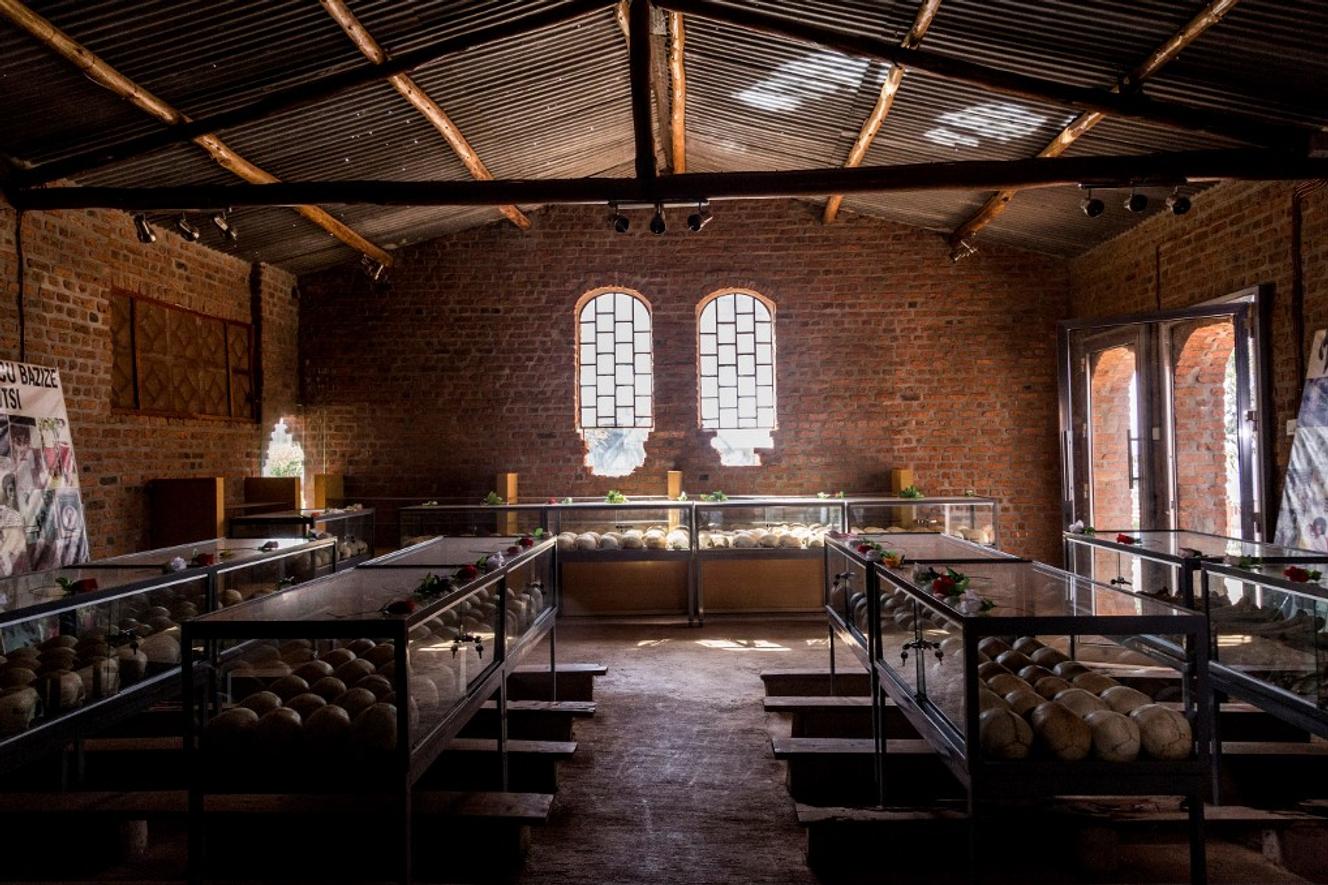 LETTER OF KIGALI
Josiane N. never wants to enter the Ntarama genocide memorial again. In this small brick church located south of Rwanda's capital, Kigali, several thousand Tutsis were massacred in a single day by Hutu militiamen on April 15, 1994. Today the remains of the deceased are stored on benches and shelves, in full view. "I went there once. I was kind of mesmerized. I collapsed. They took me to the hospital and I stayed there for two days without being able to speak ". remembers the young woman, cared for in a psychological support center for young people, at the exit of the Ntarama center.
This type of crisis is common among survivors of the Tutsi genocide, especially during the national commemorations of the massacres that take place every year between April and July. But Josiane, born in 1999, did not suffer the killings. "I am traumatized because I think of all the deaths in my family that my parents have told me about. My father lost his first wife and seven of his children in 1994 "explains.
Read also:
Article reserved for our members

Rwanda: the trial of Félicien Kabuga, "the financier of the genocide" opens in the Hague
Like many Rwandans under 30, the young woman suffers from a so-called trauma "transgenerational" Where is it "indirect" : presents psychological sequelae linked to the genocide and its consequences, without having experienced it. Each visit to a memorial is a test and each period of remembrance generates nightmares, anxiety and insomnia.
"It's a big deal for young people., this is confirmed by Fidèle Nsengiyaremye, executive secretary of the Group of former students who survived the genocide (Gaerg). The survivors remain traumatized for life by the genocide. They are not emotionally stable and this directly affects their children. "
Post-traumatic stress symptoms
According to data from the Rwandan Ministry of Health, 35% of survivors of the genocide experience major depressive episodes and 28% are still in a state of post-traumatic stress, a figure eight times higher than the rest of the population. But the consequences of these problems on the younger generation remain largely unknown in Rwanda.
In 2021, Gaerg participated in the investigation of a Rwandan PhD student at Montclair State University in the United States, Jessica Bonumwezi, who examined family factors that favor transmission of trauma within survivors' families. Result: many parenting problems, in the forefront in which aggression, emotional unavailability or, on the contrary, overprotection would interrupt the development of children. Not to mention the silence that often surrounds family history.
Read also:
Article reserved for our members

How investigators arrested Félicien Kabuga, the alleged "financier" of the Tutsi genocide
"At some point, teenagers want to know what happened to uncles, aunts and grandparents. But these are questions that parents sometimes can't answer ", explains Fidèle Nsengiyaremye. Of several hundred child survivors surveyed, 42% would have clinically significant symptoms of post-traumatic stress and 38% symptoms of depression and anxiety according to the survey.
In an attempt to give a biological explanation to the phenomenon, some scientists are now exploring the epigenetic trace. This discipline that examines how the external environment can induce changes in the expression of our genes in a possibly hereditary way, without modifying our DNA sequence. This could explain the transmission of some psychological disorders to children much more rapidly than through genetic mutations.
Epigenetic factors
"We started asking questions when, as practitioners, we witnessed terrible crises in young people born several years after the genocide ended," says clinical psychologist Eugène Rutembesa. This University of Rwanda professor with small round glasses and an impeccable suit started his career in one of the country's first psychiatric reception centers in the late 1990s, when "The whole Rwandan mental health policy had to be invented." He took responsible for dozens of young patients with flashbacks, incessant crying or regressive behavior. And he became a privileged witness to the suffering of the post-genocidal generation.
In 2014 she participated in a research project on epigenetic factors for the transmission of post-traumatic stress from mother to child, which compares a group of pregnant women exposed to the Tutsi genocide and another group of pregnant women exposed to the same period but living in another part of the world. "We were able to show that there were alterations in genes linked to the production and functioning of the stress hormone, cortisol, in women who experienced the genocide and in their children," He explains.
Read also:
Article reserved for our members

Investigation into the financing of the genocide in Rwanda: Félicien Kabuga, the great financier of the massacres
Results recently confirmed by a similar study conducted by researchers from the universities of South Florida and Rwanda: in December 2021, in an article published in the British journal epigenomics, they assure that many epigenetic modifications occurred at the level of the genes involved in the risk of mental disorders in mothers and children exposed in utero to the Tutsi genocide. It remains to be seen whether the third generation will have the same characteristics and will also be more likely to develop mental illness.
While the vast majority of research focuses on survivors and their descendants, it is indeed the whole of Rwandan society that continues to suffer the consequences of the genocide. The event would also have triggered a process "disaffiliation" in the families of the victims as well as those of the executioners, according to Eugène Rutembesa.
Shame, fear and silence
"The traditional role of the parent is to protect and pass on. But everything was destroyed. Genocide is said to be a phenomenon outside of culture. What have we become? What can we pass on next? ", asks the psychologist. In a society where we greeted each other by specifying the name of our parents, shame, fear and silence came to cloud the relationship with genealogy.
Although not recognized as victims by the Rwandan state and society, the children of former genocides also suffer from their family history. Jean-Bosco N. organized a meeting in a discreet and deserted restaurant on the outskirts of Kigali. He does not want the news of his interview with him to be divulged. " I'm sad, he let go. My life should have been different. But I have nowhere to say all this out loud. "
Read also:
Article reserved for our members

The long road to French justice in the face of the Tutsi genocide
As a child he saw his father being sentenced to fifteen years in prison for driving out a Tutsi who had come to take refuge in his home during the massacres. "Yet he was innocent", assures the young man who, as the firstborn, had to interrupt school to support his family. He has since worked odd jobs and is sorry to be held responsible for his father's crimes.
"When I get to the construction sites, some say they shouldn't give me work. I know why: the community has always seen me as a criminal. My old classmates don't even greet me when they see me. " he sighs, tears in his eyes. Two months ago, his father returned home after receiving a reduced sentence: "Some in the village say he should have stayed behind bars. I can't help but shut up. "
Find here all the letters of our correspondents.
Summary of our series "Africa in therapy"
Depression, schizophrenia, bipolar disorders… Mental illnesses remain the poor relatives of public health policies in Africa. States on the continent devote, on average, only $ 0.46 per inhabitant to their care, while the World Health Organization (WHO) recommends that low-income countries devote at least $ 2 to them. An underinvestment aggravated by the taboo that still weighs on "madness" in many African countries.
episode 1
Mental health, a persistent taboo in Africa
Part 2
Emilienne Mukansoro, a pioneer of group therapy in Rwanda
Part 3
"The needs are immense! »: In South Sudan, three psychiatrists for an entire country
Episode 4
In Ivory Coast, a psychiatrist on a mission in the "prayer fields"
Episode 5
In Algeria, gentle methods to help addicted people
Episode 6
Kader Attia, or when art is interested in the unconscious of Africans
Episode 7
In Rwanda, the trauma of genocide is passed on from generation to generation